How to Setup Multiple Monitors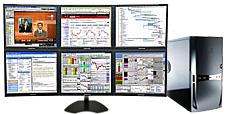 Setting up a multiple monitor computer is a smart move, there is no better way to be productive. The easiest way to setup multiple monitors is to have a professional build a Multiple Display System for you.
NTI is the worldwide leader in multi display computing, in fact we are the founders of this type of system. Contact us today for a free quote.
Why not get an off the shelf system?
An assembly line based, "off-the-shelf" computer from Best Buy, Dell etc is more of a generic one size fits all system. We call these 'disposable computers'.  They come loaded down with games, trial software and other programs you may never use which can bog your system down. So if you are looking for a high end computer for serious work, a custom built system is a much better choice.
How many displays can I have?

We have systems supporting from 2 up to 12 displays with a single system. This is the starting point and will determine which system configuration you will need. All you have to do is decide how many displays you want, and leave the rest up to us.
What about speed and power, will I have enough?

Yes. This is what QuadStation Systems are known for worldwide. All systems come standard with all top shelf components, right out of the box. Regardless of which system you choose, you will always have plenty of power leave that to us. All you have to decide on is how may displays you would like to have. We only use the fastest processors and motherboards at any given point in time.
How much desktop space will I need?
If you have plenty of desktop space then you usually don't have to worry. If your space is limited on space, then you need a multi Monitor Mount , see below.
Should I allow for expansion?

Yes. If you think there is even a chance that you may want additional displays in the future, it is easier to do this now. More often than not, customers want additional displays later wishing they had started with more. For example, if you are on the fence between a 4 and a 6 monitor system, go with the 6. You don't have to use all monitors at first, just plug them in later when you are ready. All of our systems are very expandable so if you decide to add more screens later, not a problem.
How many displays do you need?
Multiple Monitor Mounts
How do I setup multiple monitors on a stand?
​Whether you are considering buying a complete multi display computer from us, or expanding displays on an existing computer, you will need an multiple monitor mount to connect all of your LCD/LED monitors together.
Monitor mounts create a much more efficient and productive workspace and we have mounts to support ANY number of monitors. All of our mounts come with a 10 year warranty.
Can I use my existing monitors mounts?

Yes most likely. If you already have monitors and you are purchasing one of our monitor stands, make sure they are MOUNTABLE (i.e. they have a VESA type mounting pattern on the back which most of them do. Sometimes they are covered up by the manufacturers sticker or the base. Check your monitor specs to confirm.
Can I buy monitors and mount from NTI?

Yes. When you buy and monitor or mount from us it is guaranteed to be compatible. Take the guesswork out of it and let us send you a monitor mount bundle.
​See all monitor mounts here, we have many styles to choose from.