Why Buy from NTI | About our Company | Trader Details | Trading Computers
Multi Monitor Trading Computers
QuadStations are the most reliable trading computers money can buy. That is because we focus 100% on quality first and foremost so our systems outlast every computer on the market. Our experience is unsurpassed. We have been in business longer than all of our competitors, combined.
So, If you are looking for the most reliable trading computer that you can get your hands on, you just found it. QuadStation Trading Computers by NTI are built and supported in the USA.  We use only top of the line components from the ground up for maximum speed and  performance.
These rock solid machines are designed for traders who appreciate supreme quality. This allows you to focus on your trading, leave the hardware to us we have you covered there.
A Trading Computer You Can Count On
To get start, choose a system below for full details or to customize and price. Questions? No problem, call the number at the top of the screen. We will answer all of your questions and help you decide which system is right for you.
Base Specs for All Systems:  
Intel
i7-i9
Processor | 32-128 G Memory | Solid State Hard Drive |
Factory Restore Drive
| Choice of Windows 10 or 11- 64 Bit Pro | DVI or DisplayPort Connectivity |
4K
Resolution | FREE 3 Year Warranty | USA Support | FREE SHIPPING anywhere in cont. US. (
optional upgrades during checkout).
What are the Most Reliable Trading Computers?
NTI QuadStation systems are the most reliable trading computers available, hands down. Because we never sacrifice quality, our systems outlast all others. These powerful systems provide support for 2 to 12 independent displays, and our company is backed by 28 years of solid experience designing high quality trading computers.
Why Do I Need a Trading Computer?
To start, let's understand the importance of trading computers. Trading computers are essential tools for traders, providing them with the necessary speed, power, and reliability to execute trades effectively. Whether you're a day trader, swing trader, or an investor, having a custom built, high-performance trading computer can make a significant difference in your trading success.
Are QuadStation Systems High Quality?
Unlike other systems, we use nothing but the best of everything in our systems, no shortcuts. As a result, our QuadStations outlast every computer available on the market today (we have proof). If you need help, rest assured that our customer service is second to none.

Lean, Fast and Ready for Work
QuadStation systems are not bogged down with unnecessary software like other systems. Only the operating system and necessary drivers are installed. Subsequently, you have a faster and leaner trading workstation.
Need Monitors and / or a Monitor Stand?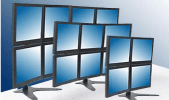 No problem, we have that too. We can provide the monitors and mount with your system for a complete setup. Then, you know everything will work together. Choose from freestanding, bolt down, or wall mount styles.
Buy everything from us and we will give you free Video Cables with your system.
I already have monitors, can I use those?
If you already have monitors or plan on buying your own monitors, that's ok. Just let us know the make and model so we can look them up for you. They need to have certain parameters, read more about that here. Then, we can provide the trading computer and the monitor mount for your monitors.
Ready get your NTI QuadStation into production?
Just give us a call or place your order online above. After that, sit back and relax we will take it from there. It will be the most reliable trading system you have ever owned, we guarantee it!
Still have questions, we have the answers. Call Now:
239.254.9206
---
Laptop with Multiple Displays
One more thing. If you would rather have a laptop, we've got that too. The QuadStation Traveler laptop system comes with 2 x super thin USB monitors for a total of 3 screens. It includes a solid, weatherproof carry case that fits in the overhead of commercial aircraft. Take the whole system with you when you travel, or just grab the laptop and go. This system has it all, you will love it!
If you need the portability and a total of 3 screens is enough for you, click the image below for full details on the Traveler.