Multiple Monitor Computers
NTI QuadStation Systems
, are high performance, multiple monitor computer systems designed for serious professionals.  QuadStation systems provide support for
2 up to 12
independent displays driven by a single machine.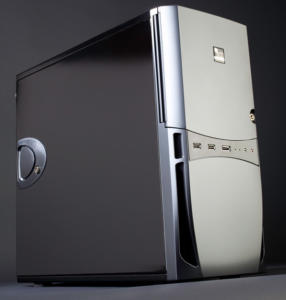 At NTI, our primary focus is building the most reliable, high quality computers that outlast all others combined. Our customers include mission critical and serious professional environments so the quality must be there. Our customers depend on it.
We are often asked the difference between our QuadStation computers and an off the shelf, assembly line computer (what we call "disposable computers"). If you are in the market for a new computer to run your business keep these things in mind.
Quality Without Compromise
Look under the hood of a QuadStation system and you will find a technological masterpiece. Every detail inside the box has been well thought out and tested. Building a world class machine like this takes much more than throwing parts inside a box. Every component must work in perfect harmony with the others to ensure consistent performance over time. This is what you will get with a QuadStation system.
How Do QuadStations Last So Long?
As our customers know, our systems blow far past our 3 year warranty. It is not uncommon for customers to contact us with an 8+ year old QuadStation still up and running. Music to our ears, that is what we work hard to achieve.
How Do We Accomplish That?
To produce the longest lasting systems in the world it means never cutting corners on quality, ever. While most computer manufacturers are constantly seeking out new ways to cut corners, we take a totally different approach. We are on a never ending quest to raise our systems to the next level in speed and longevity.
Quadstation computers are worth every penny. Just ask any of our customers who are still using our systems after 8+ years.
Fully Tested Prior to Shipment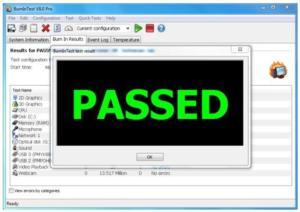 Every QuadStation System goes through a very thorough 32 point checklist to maintain our quality control. Then we stress test the system by running it through our burn-in utility which simultaneously cycles through testing every single hardware component in the system.
The motherboard, memory, CPU, graphics etc are all pushed at the same time simulating a 100% maximum load on the system. This is equivalent to 10 times what a power user would ever use at any given point in time.  Even with 20 programs open at the same time, a QuadStation is never pushed beyond the 10% resource threshold.
Who are QuadStation Systems Designed For?
Business Computers vs Off the Shelf Systems
An "off-the-shelf" computer from Dell, Best Buy, HP, Lenovo etc is a generic one size fits all, assembly line computer. It will come loaded down with games, trial software and other programs which you may never use and that will bog your system down. If you are looking for a strong workstation built for serious business, a custom built system is a much better choice. More details on this topic.
Business Computers vs Gaming Computers
Gaming machines and components used in that type of machine, typically have a very short life span due to overclocking and extreme overheating of the components. That is why gaming computer companies usually only back their hardware by 1 year. Our business class workstations come standard with a warranty of 3 years parts and labor.
Gaming machines are a dime a dozen so if you are a gamer buy a gaming computer. However, if you are looking for a business class machine that you can count on, you are in the right place. Trust in a QuadStation, they are built for the job.
The History of the QuadStation
The term "quad" in the QuadStation brand refers to the very first 4 display workstation which was designed by NTI back in 1995. Over the years our innovative systems have grown to support up to 12 displays driven by a single computer, but the name QuadStation stuck.
As the number of displays in our QuadStation systems configurations increased, we had to put more horsepower under the hood to drive them all. Several years back Intel released the first 'Quad' Core i7 processor so it was still a perfect fit for the name "Quad"Station systems. Now our systems are driven by 6, 8 and 10 core processors, yet the name QuadStation remains.
In this world of information overload, multiple screen computers are becoming a necessity in the workplace, making QuadStation computers the new business standard. Naturally invention breeds competition, so others continually attempt to imitate our systems without success. If you want a genuine QuadStation, call us.
Rock Solid Systems
Our systems are most commonly used in serious environments such as financial, video surveillance monitoring, control rooms, business offices, and military applications, but the uses for QuadStation systems are virtually endless. See this list of customers that trust in the stability of our systems. The longest lasting computer you will ever own!
No Hassle Support
QuadStations are backed by a no hassle 3 year hardware warranty as well as FREE Remote Tech Support. All systems come with built in redundancy with our trademark FRD System Recovery System. We have been in business since 1995 and considered the experts worldwide in our field. That is 28 years spent helping businesses create more productive work environments.
Energy Efficient
At NTI, energy conservation and the planet are always on our minds during the engineering process. Without sacrificing any performance, all QuadStation systems utilize energy efficient power supplies, low power and low heat emitting hardware components. This makes for a very quiet, long lasting computer system. In addition we use recyclable packing materials in all of our shipments.
Always Free Shipping
QuadStation systems always ship for FREE anywhere in the continental US or Canada (excludes international fees). This includes all other items purchased with the system as well such as monitors and mounts. A nice savings.
If you have questions, call us now at the number on the top of this page or drop us an email. Our very knowledgeable sales team will be happy to speak with you.
If you want the most hassle free computer you can get your hand on, buy a QuadStation today. It will be the best computer you have ever owned.
Order Your QuadStation Now!