NTI Product Lines
Every product that we offer is guaranteed to be the highest quality available. So feel confident that you are getting what you pay for. If you have any questions about anything in our product line, please do not hesitate to contact us now. The number is on the top of every page. Select a product category below for full details and pricing: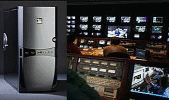 NTI Control Room Computers are rock solid, multiple screen workstations with support for 1-12 independent displays. Choice of standard computer case or rackmount chassis. Built for mission critical environments, our powerful control room systems come standard with Intel's fastest i7 processors, solid state hard drives, and ready for work out of the box.
These systems are designed for professional control room environments where reliability is critical. Pre-configured and fully tested prior to shipment. We also carry multi display monitor mounts and stands.
---
QuadStations are high performance, multiple screen computers supporting from 2 to 12 independent displays. No need for upgrades really, all NTI systems come powered by the world's fastest Intel i7 series processors.
Businesses large and small trust in NTI QuadStations to increase efficiency in the workplace. Click on a system below for more details or to purchase now. Monitors and mounts are sold separately during checkout if needed. Shipping is FREE anywhere in the continental USA.
---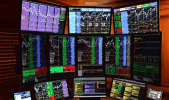 Traders – QuadStation trading computers are for the trader who is tired of cheap computers that do not keep up. Our systems are fast, quiet and rock solid so you can forget about the hardware and focus on your trading.
Add optional monitors and mount for a computer turnkey setup.
---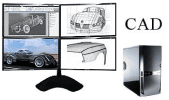 Multiple display CAD workstations designed for engineering, architectural, design, 3D and scientific modeling. Choice of 2, 3 and 4 display systems, add optional monitors and mount during checkout for a complete turnkey setup.
NTI-CAD systems come packed with all of the power you will ever need. The professional graphics card that we use are certified for your software. Built for the serious professional looking for a very reliable CAD design workstation. They are fast, lean and ready for work out of the box. Let your creative ideas flow.
---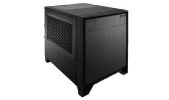 If you are looking for a basic PC but do not want a cheap, off-the-shelf system, we understand. Quality is not sacrificed even in our entry level systems. These systems are simple by design, cost effective, yet high quality and will last for years.
Use with regular sized monitors or large screen TVs. This system is Small but Mighty! Only 13.8 x 10.9 x 11.4 inches.
---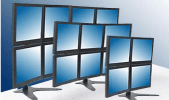 Multiple monitor mounts and stands allow you to connect multiple displays together up to 3 rows high. Free up valuable desktop space and create a more organized workspace.
We have individual mounts to accommodate up to 12 displays, or combine different mounts for mounting an unlimited number of displays. Freestanding, bolt down, wall mount, large screens and rolling AV carts.
---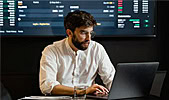 ​The QuadStation Traveler, is a 3 display laptop system which includes 2 lightweight external USB powered displays and carry case. For the multi display professional who commutes between locations, this system is for you. In today's age of information overload, a single laptop screen is no longer enough.
If you find yourself minimizing and maximizing windows all day long, then you need more screens!​
---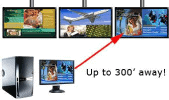 Multiple display digital signage computer systems that are easy to use and affordable. You do not need to buy an expensive system that is complicate. This is a cost effective, Windows based alternative.
Everything is included to create your own digital content in minutes.
---
Complete ready to mount camera kits and video recording software for any environment. Add video surveillance cameras where you think it is not possible! Our optional wireless video kits can send video up to 1 mile!
Marinas, golf course, gated communities you name it. We have a solution for you.
---
Questions? Call Us Today!