Monitor Stands
Mount Ergonomics | Choosing the Right Monitors | Desktop Space
If you can imagine it. We can make it happen.
Computer monitor mounts and stands to connect multiple displays together up to 3 rows high. Monitor stands free up valuable desktop space and create a more organized workspace. We have individual mounts to accommodate up to 12 displays, or combine different mounts for mounting an unlimited number of displays.
Freestanding or bolt down desktop styles, wall mounted, rolling AV carts or large display menu boards. Mounting solutions for 17″ up to 71″ monitors or TVs, many styles to choose from.
---
Freestanding or Bolt Down
For mounting larger monitors or TV's up to 30″, we have many freestanding and bolt down style mounts to choose from. Freestanding mounts are the most common since they sit on top of your desk for a quick setup.
Depending on your mount style and monitor size, you may need to use a bolt down style base. Click on See All Mounts to button to compare all mount styles. We also have clamp to desk style mounts in addition to wall mounts.
---
Large Screen Wall Mounts Menu Boards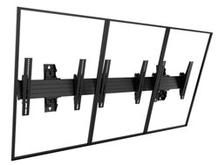 Large screen wall mounted systems for 2 to 5 displays wide, up to 55″, in portrait or landscape.
The single horizontal extrusion with depth adjustment aligns the screens quickly even on irregular mounting surfaces and allows easy access behind the displays for servicing.
Ideal for: Menu boards, video surveillance, restaurants, transportation, display walls, control rooms, municipal and more.
---
Rolling Stands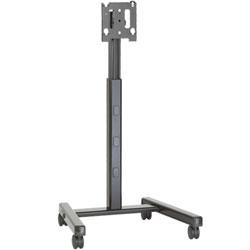 Lightweight, yet heavy duty, height adjustable rolling AV carts for mounting 1 or 2 screens from 30″ up to 71″.
Perfect for rental, staging, production sets, trade shows, control rooms or corporate applications.
Accessories available to add up to 2 additional displays.
---
DO NOT BUY A CHEAP MOUNT!
There are many cheap monitor mounts out there but usually not worth the money. They are usually wobbly, the base is not solid and may not have the rotate, swivel, tilt flexibility found in higher quality mounts. This is particularly important if you want to prevent neck and back strain.
How to Choose the Right Mount
Start by evaluating your desktop space. For example if you plan to have 3 x 24″ monitors wide, make sure you have enough space. That would be exactly the horizontal width of those 3 monitors, roughly 67″ in this example.
The desk just needs to be strong enough to support the weight of all the monitors and it is ok if they hang over the edge of the desk a bit. Remember the mount and base are supporting everything.
Measuring Monitors
Remember when measuring your monitors they are measured diagonally. For example a 22″ monitor as manufacturers reference them, are actually 21.5″ and measured from the upper left to the lower right of the screen viewing area (excluding border).
It is important to know what size monitors you have when shopping for a monitor mount. The specs on any of our mounts will read something like this: "supports up to 4 x 22″ monitors", so you will need to know what you have.