Dual Monitor Setup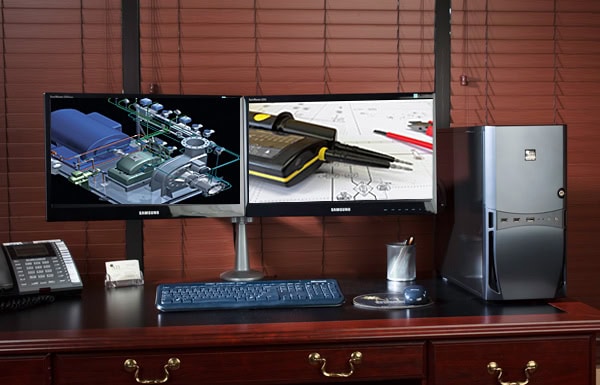 If you are looking for a dual monitor setup, the NTI-TX2 is the answer.  This powerful system supports 1-2 digital 4k video outputs.
Connect Large or Small Monitors
You can connect 1-2 monitors or TV's of ANY size, so you will be multitasking in no time. Also, feel free to connect to an existing monitor or TV.  A simple and affordable dual display computer for anyone.
High Quality – Affordable Price
We designed this system for those looking for a basic computer system but do not want a cheap, off-the-shelf system. The NTI-TX2 meets our same high quality standards as our full size QuadStation Systems , but at an affordable price. So if you do not need the full power of a QuadStation, this is a cost effective, yet high quality machine that will serve you well.
Office Workstations
Before replacing those old workstations, consider this system.  The NTI-TX2 has a very long life cycle, so you don't have to replace computers nearly as often. That's because our systems far outlast most computers on the market today.
Add optional monitors and mount during checkout if you need them for a full turnkey setup. Keyboard, mouse and speakers are included with all systems.
Double Productivity
The NTI-TX2 will double your productivity on the very first day. If you are not currently using dual screens in your office, you should be. Once you start using multiple monitors, you will never go back.
Video Connections
If you buy optional monitors from us, you will be all set since we include the monitor video cables with your system. If you are using your own monitors, just let us know what type of connections they have. That will let us know what type of cables that you may need.
Our Systems Last Longer
How to we do that? Our systems last longer any other system out there because we always use top quality components down to the smallest part. No corners cut here, so you will always get the most for your money.
Simple. Powerful. Affordable.

$1395 Delivered  anywhere in the continental US
---
Specifications:
Support for up 1-2 independent displays
Intel Core Processor
Choice of Windows 10 or 11 – 64 bit Pro Edition
16G  DDR4 Memory (32g max)
2 x 480g Solid State Hard Drive (1=System/1=Restore)
2x HDMI 4k connections.
Built in WiFi
6 x USB ports
DVDRW Drive
High quality case with sound dampering design.
USB Keyboard/Mouse
Speakers
Ready for work out of the box
Fast Turnaround
FREE UPS Shipping (anywhere in cont. US)
​FREE Remote Login Support Service
(upgrades available at checkout if needed)
Small But Mighty!
Don't let the low price fool you, the NTI-TX2 is power packed so it will get the job done. It is well ventilated and super quiet. The system comes with an Intel i5 Core processor which is plenty of power to drive 2 displays, but feel free to upgrade to the i-7 processor if you wish.
Many Uses
A very solid dual monitor computer.
Dual monitor setup for trading.
Makes the perfect office workstation.
Digital signage for 2 large TVs in your business.
Bloomberg terminal computer.
Video surveillance recording computer.
Video Connections
2 x HDMI v1.4
Resolution up to 4K (4096 x 2160)
Optional adapter available at checkout
Other Connections
4 x USB v3.1
2 x USB v2.0
Gigabit network port
Built in Audio
Built in WiFi
Monitors
Add 1 or 2 optional monitors during checkout if you need it.
Or use with your own large screen TV via HDMI
Warranty and Support
FREE 3 year hardware warranty on all components.
FREE Remote support service via our web based Tech Support Console
100% US Based support (not outsourced)
​FREE shipping anywhere in continental USA
Need a System With More  Screens?
We have that solution. See our full sized line of QuadStation multi display computers supporting from 3 to 12 displays.