Keyboard Does Not Work After Doing Windows Update
How to fix my keyboard
If you've recently done a Windows 10 update and now your keyboard has stopped working, you're not alone. Note this applies mainly to laptops but desktops could also be affected. Many other Windows 10 users are reporting the same problem, especially after installing the KB4074588 update.
Microsoft released a new update KB4090913 that they claim resolves this issue. If you are still experiencing this issue give this a try.
Preliminary.
First note this is not a hardware problem this is a software problem caused by a Microsoft Windows update.
Why this happened
Microsoft released a new update KB4074588 on Feb 13, 2018. This apparently affects the functionality of laptop keyboards in Windows 10 and can temporarily disable them. Desktops so far do not seem to be affected, if so we will update this page accordingly. If you are interested, here is what Microsoft has posted on their website about this.
After installing this update, some USB devices and onboard devices, such as a built-in laptop camera, keyboard or mouse, may stop working.  This may occur when the windows update servicing stack incorrectly skips installing the newer version of some critical drivers in the cumulative update and uninstalls the currently active drivers during maintenance.
​Microsoft is working on a resolution and will provide an update in an upcoming release. ​Workaround steps are available in KB4075150. – Microsoft Corporation
Ignore the last line about the workaround it is not helpful. All that said they have not posted a real fix for bringing back your keyboard, so we will do it here.
Steps to Fix It
Get your mouse working if you can
Check your keyboard settings

​Uninstall the update that caused it.

​Reinstall the keyboard driver
​
Here are several suggestions to try and reactivate your keyboard:
Try to get your mouse working
If you have a Windows 10 laptop chances are you have a touchscreen so you still have control over navigation since you can use the onscreen keyboard. However using a mouse makes it easier. If your mouse is working read on, if not try a different USB port to get the mouse working if you can.
Check your Keyboard Settings
Windows has a setting, called Filter Keys, that allows you to control how it deals with accidental repeated keystrokes. Unfortunately, if turned on, this setting has been known to cause some keyboards to stop working in Windows 10. So you should check if it's turned on. If it is, you should turn it OFF and see if that resolves the problem.
​1> From the Start Menu click on PC Settings to access the Action Center​​​​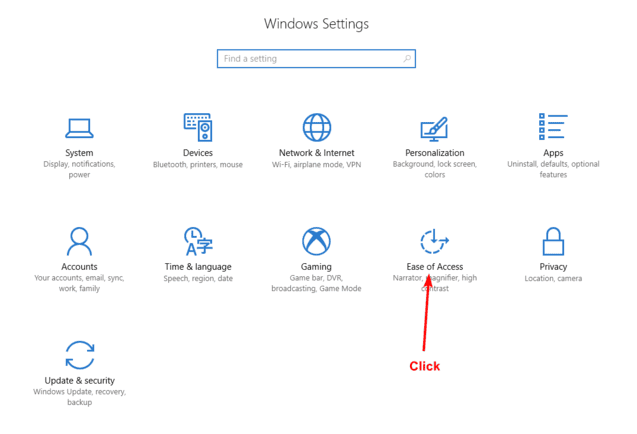 2> Go down to your Keyboard settings and turn OFF Filter Keys
3> Reboot your computer. See if your keyboard is working. If not proceed to the next step.
Uninstall the Microsoft KB4074588 update
1> In Windows 10 click on the Start Button and search for View Installed Updates
2> Search for KB4074588 update. If it is there, select it and Uninstall it.
3> Reboot your machine. See if your keyboard is working. If not proceed to the next fix.
NOTE: Write this Windows update name down to make sure you do not allow Microsoft to install it again. If so the problem will start all over again. See Windows 10 Troubleshooting for how to stop Automatic Windows Updates.
Reinstall the keyboard driver
This update may have disabled your keyboard driver. A simple reinstall should bring it back.
1> From the Win 10 Start menu, Right click on This PC then Left click on Properties.
2> Choose Device Manager from the upper left column.
3> Expand the Keyboard items, then Right on your keyboard in the list.
4> Click on Uninstall to remove it.​
5> Reboot your machine it should reload the necessary keyboard drivers.
Hopefully one of these fixes has brought back your keyboard to a functioning state. If it works for you let us know so we can help others.
If you need a new computer now, consider a QuadStation Computer System. They support from 2 to 12 displays,  choose a system below for full details and pricing.  Turnaround time is just a few days.​​ It will be the longest lasting computer you have ever owned!