Digital Signage Computer
1 Display | 3 Displays | 5 Displays | 7 Displays | 9 Displays | 11 Displays
1 Display : DS Z1
​​Support for 1 content display
Windows 11 based system
Easy to use and maintain
​Up to 4K resolution
No recurring fees
PowerPoint software included

Display any type of content

Any size monitor or TV
Independent displays
The DS-Z1 is an easy to use, computer based digital signage computer with support for 1 content display. This simple, yet powerful system allows you to push information out to a monitor or large screen TV.
This is a dual display system. One monitor is used as the 'control monitor' to manage everything. The other video port is used to display your content.
If your content display (TV or monitor) is beyond 10 ft away, we have optional Video Extension Modules. Extend audio and video at distances up to 300′ over standard CAT6 network cabling. Add this option during checkout.
Use the DS-Z1 system to create a versatile message board, display menus, digital signage advertising, video, pictures, a spreadsheet …anything you like! Keep your business on the cutting edge of technology with a Z-Series Digital Signage System.
Simple Setup
Set up your DS-Z1 Digital Signage System.
Connect your TV or monitor (content display) that will show your information.
If you are extending video, run a CAT6 cable out to your content display and connect the video extenders.
Create your digital signage 'content' (software included).
Click to 'send' your content out to the display, that's it!
What is Included
DS-Z1 Digital Signage Computer
1 x 22″ Monitor (for the control monitor)
1 x Video Adapter (to connect to control monitor)
1 x 10 ft Video Cable
Microsoft Office Software Suite (with PowerPoint to create your content)
Remote Display Software Utility (control monitors from a distance)
Keyboard, Mouse and all Accessories
FREE Login Tech Support Service (worldwide).
FREE Shipping (cont U.S.)
Video Connections
There are two options to connect to this system based on how far away your content display will be from the system.
Option 1:  If LESS THAN 10ft away, you do not need to use the video extension option. You will connect the video cable directly from the video card ports (DisplayPort, HDMI, DVI or VGA), straight to the port on your content display. In this case, we will provide the appropriate 10ft video cables (DisplayPort, DVI or VGA) and adapters with the system based on your selection at checkout. We do not sell HDMI cables but you can pick those up at any Best Buy or office store.
Max Resolutions
If you do NOT require video extension modules and you are connecting less than 10 ft, you will obtain the full resolution of the video card used in the system. We include 10 ft DisplayPort, DVI or VGA video cables with the system if you are NOT extending. Just let us know which you prefer in the comments box during checkout.
Max DisplayPort 1.2+ Resolution: 4096 x 2160 (4K)
Max DisplayPort 1.1 Resolution: 2560 x 1600
Max DVI (with included DP to DVI adapters): 1920 x 1200

Max HDMI (with DP to HDMI adapters): 1920 x 1200
Max VGA (with DVI to VGA adapters): 2048 x 1536
Option 2:  If MORE THAN 10ft away, you will need to use our Video Extension Modules (see below) to extend the video up to 300′ away from the system. These options are also available during checkout
Extending Video Beyond 10ft
Video Extension Modules (VEM's): Extend video at a distance of up to 300′ using our optional video extension modules (VGA, DVI or HDMI). DisplayPort cannot be extended.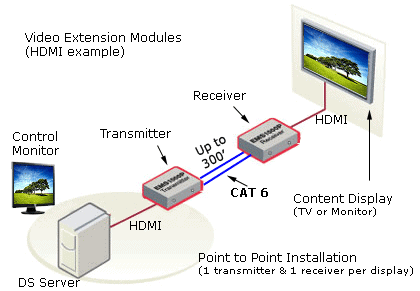 This is an example of our HDMI Video Extension Modules which can be used to transmit video as well as audio up to 300' over CAT 6 network cabling. (Note 1 or 2 CAT 6 lines may be required depending on your objective).
A small VEM Transmitter module connects to the video source of the DS system on one side of the module, and on the other side outputs to CAT 6.
The matching VEM Receiver module located at the content display on the other end receives the CAT6 input, then outputs to the video source on the content display, in this case HDMI.
 Notes About Extending
Audio can be transmitted along with video when using HDMI extenders.
DisplayPort can be used if less than 10ft away which can also carry audio and video, but DP cannot be extended.
If you do not require audio, you may also extend over VGA or DVI to extend video only.
VEM's are connected over 1 or 2 x CAT6 network cables for each VEM depending on the type of connection used.
Customer must provide and run CAT6 cables to each VEM.
Max Resolutions Using Video Extenders
VGA: 1920 x 1200 up to 300 ft / 1 x CAT6 line needed per VEM.
DVI: 1600 x 1200 up to 160 ft/ 2 x CAT6 Lines needed per VEM.
HDMI 130 ft: 1080p up to 130 ft. / 2 x CAT6 Lines needed per VEM.
HDMI 300 ft: 1080p up to 300 ft / 1 x CAT6 line needed per VEM.
What You Will Need
1 x TV or monitor to display your content (content display).
Short video cables to connect from the Video Extension receiver module (if used) to your TV or monitor. These short cables are normally provided with your monitors or TV's. If you need to extend video farther than 10′ away, choose a Video Extension option during checkout.