CAD Computer with 4 Displays
---
The QS4-CAD 4 display computer is specifically designed for engineering, architectural, CAD, digital content creation, 3D and scientific modeling. We can provide just the box or a complete turnkey setup including monitors and mount. Our systems are certified with most CAD software, so rest assured that your system will perform well.
The system comes packed with all of the power you will ever need, but optional upgrades are available. It has a super fast Intel processor and plenty of memory.
Model: QS4-CAD | $2450
The most reliable CAD computer you will ever own.
Base Specs – (Upgrades available during checkout)
Support for up to 4 independent displays
Intel Processor
Windows 10 or 11 – 64 bit Pro Edition
32G DDR4 Memory (64g max)
4K/5K – ​16G DDR5 CAD Certified Graphics
2x 960g Solid State Hard Drive (1=System/1=Restore)
DVDRW Drive, HD Audio, Speakers​​
USB Keyboard/Mouse
3 Year Hardware Warranty
Ready for work out of the box
Usually ships in about 3 days
FREE UPS Shipping (anywhere in cont. US)
​FREE Remote Login Support Service
​Optional monitors and mounts during checkout.
This high performance machine is built for the serious professional looking for a fast and reliable CAD workstation. We do not bog our systems down with unnecessary software, just a nice clean slate ready for you to load your design applications. It is ready for work out of the box.
---
Video Connections
Graphics card 4K/5K- 16G DDR5. / ​Drive up to 4 screens ANY size.
4 x Mini DisplayPort outputs.  4 x Mini DisplayPort to Regular DisplayPort adapters included.
To connect up to 4 x DVI or HDMI with optional adapters and cables (during checkout)
4K resolutions up to 4096 x 2160 when using DisplayPort v1.2 or higher + monitors and cables
5K resolutions up to 5120 x 2880 when using DisplayPort v1.4 or higher + monitors and cables
1920 x 1200 max resolution on DVI.
CAD/CAE certified video card for many applications
Optional video adapters and cables available during checkout if needed.
Note: If using 4 identical make/model DVI monitors, video adapters are NOT required. If using HDMI monitors, video adapters ARE required.
Questions about video connections, if so see this page for details.
Expandable
QuadStation systems are very versatile. Add more memory, additional hard drives, monitors and mount during checkout or at any time in the future. A dual monitor setup will help you work more efficiently.
Warranty and Support
FREE 3yr hardware warranty on all components.
FREE Remote support service via our web based Tech Support Console
100% US Based no-nonsense support
[/one_half_last]
Rotate Monitors
When mounted on one of our monitor mounts, you can rotate your monitors vertically. This mean much less scrolling when surfing the web or reading long documents.
​Monitors and Mounts
We offer optional quad display monitor mounts in freestanding or bolt down style bases. Add to your cart during checkout if needed. Below are just a few options: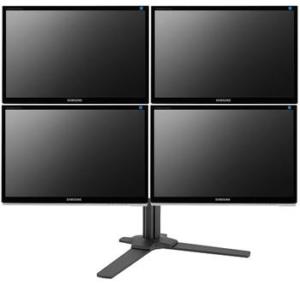 Shipping
Everything ships for FREE anywhere in the continental US right to your door.