Creating Strong Passwords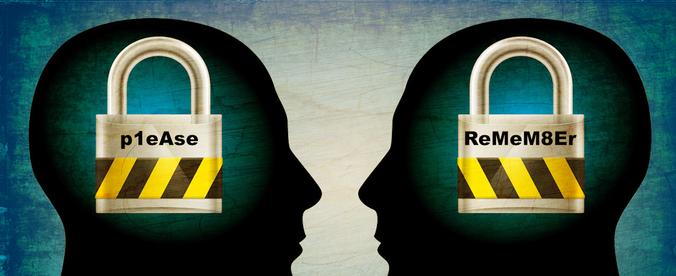 Internet security is more critical than ever as online fraudsters hone their craft of deception. The world has moved online so you should take logins, passwords and personal information very seriously. You would not give the key to the front door of your home or business to just anyone you should have the same respect for passwords.
Everything from financially related logins for online banking and brokerages accounts to more casual logins like Netflix and Facebook require a login and password. The problem is that most people use the same password for their bank login as they do their Facebook account. This is not a secure practice since you are putting all of your eggs in one basket.
If an intruder obtains your Facebook login they will also have your bank password. You should have different levels of passwords for different types of logins, but remembering all of those passwords is the tricky part. This is why most people create simple passwords which are easy to remember, but also more easily hacked. Take an extra few seconds to type in a more complex password, your online security depends on it.
Good Practices for Creating Strong Passwords
Do NOT use your birthday, address or social security number ever.
DO NOT allow your browser to store or save passwords, it is convenient but not safe.
DO NOT simply add a number if you are forced to change your password. Make it completely different.
DO create a password that is at least 8 characters in length.
DO Include at least one special character or number (if allowed sometimes they are not).
DO Create different levels of passwords.
Creating different levels of passwords
High Level: Banking, financial or anything to do with money etc
Medium Level: Level: Everything else online that is not related to money (Netflix, Facebook, Google etc)
Low Level: A more casual or temporary password that you may need to share with someone else for whatever reason, or for questionable websites (one that you are not comfortable providing your higher level passwords).
Creating Strong Passwords That you Can Remember
Example 1: Jack Was My 1st Dog And My Best Friend= JWM#1DAMBF
Example 2: On My Vacation I Rode 3 Times On The Rollercoaster= OMVIR#3TOTR
You get the idea, a phrase is much easier to remember and mix it up your own way. Change upper and lower case, add different symbols or numbers. The key is to make it complex enough so that it cannot be compromised. Note that some websites and programs do not allow special characters, if that is the case just work around that.
FREE Password Vault Utilities:
If you don't want to think that much, consider using a secure Password Vault. Your passwords are locked in a personal, virtual 'vault' until you need to login. Highly encrypted and the easiest way to manage all of your passwords in one place. Here are some top rated password Vaults.
Dashlane – Rated top password vault and our top pick as well. It works in Chrome Incognito mode too.
​Nortons Password manager vault.
Both have built in Password Generators as well for highly complex passwords.
How to Setup Dashlane
​​Setup is fairly straight forward. Download Dashlane , create your account and your MASTER password.
If you have been storing usernames and passwords in your browser Dashlane can IMPORT them all right into your Vault. Add new ones as you go along. You can also import from various other vaults or from a custom CSV file.
Add the "Extension" for Dashlane to your browser (in your browser setttings) .
The next time you login to a site the username and password fields will be highlighted and a small Dashlane icon shown on the right of them.
Using a Password Vault vs your Web Browser
Although allowing your browser (Chrome, Internet Explorer, Firefox etc) to store your passwords may be a bit easier, there are may advantages of using a separate Password Vault:
Browsers allow simple (less secure) passwords to be saved. Vaults force you to create strong passwords.
Vaults allow you to use across any browser.
Password Vaults allow you to retrieve your passwords when in Incognito Mode or In Private Browsing.
All of your passwords are in one safe place and easier to manage.
Vaults have higher levels of encryption and include free password generators.
Store Secure notes other than passwords inside  your Vault.
Vaults have the option of storing locally (on your hard drive),or sync to the cloud so you can access from anywhere.
Need a Great Computer?